The Maternity Clothing Predicament
Maternity clothing is tough to justify buying because you're only pregnant for so long.  So how do we choose what we need and what we can do without, without breaking the bank?
We want clothing that fits our body and feels comfortable as our bodies grow and change.  We want something that we can continue to wear through the early postpartum days, and something that we can wear for all occasions, from working out, to looking cute, to lounging around at home (which I'm doing a lot more of these days)!
So here are my top picks for maternity wear I can't live without!
Active Wear
The most important thing for me is to have some items that support my belly so that I can maintain an active lifestyle and feel like my belly is well supported as it grows.. and grows 😉
Here are my top picks for maternity activewear:
Bao Bei Maternity
This is a California based company that describes their maternity pants and belly bands as a  sports bra for your belly.  I absolutely love how they feel on my belly when I'm working out, and the black ones can even be dressed up with a nice top to go out!  As your belly grows, that need for support increases and it feels really good to have these pants or the band to hug your belly.
Learn more about them here.
Matletik World
I was lucky enough to stumble upon this Canadian company when they were looking for pregnant models to sport their gear on Dragon's Den!  I Love their pants because the material is soft and breathable, and they have great tops as well! Sports tops with some ruching on the sides for a nice flattering look.  These are more suited for activity, and not so much for dressing up, but the pants are also made so that you can wear them long after baby arrives, by simply folding down the belly band.  Since the material is a little softer, it feels super cozy and I can see myself keeping these for years to come!
They were generous enough to give my readers a 15% discount with the code SIBBIO-FITNESS-15 at checkout! Visit their website here to check out their stuff!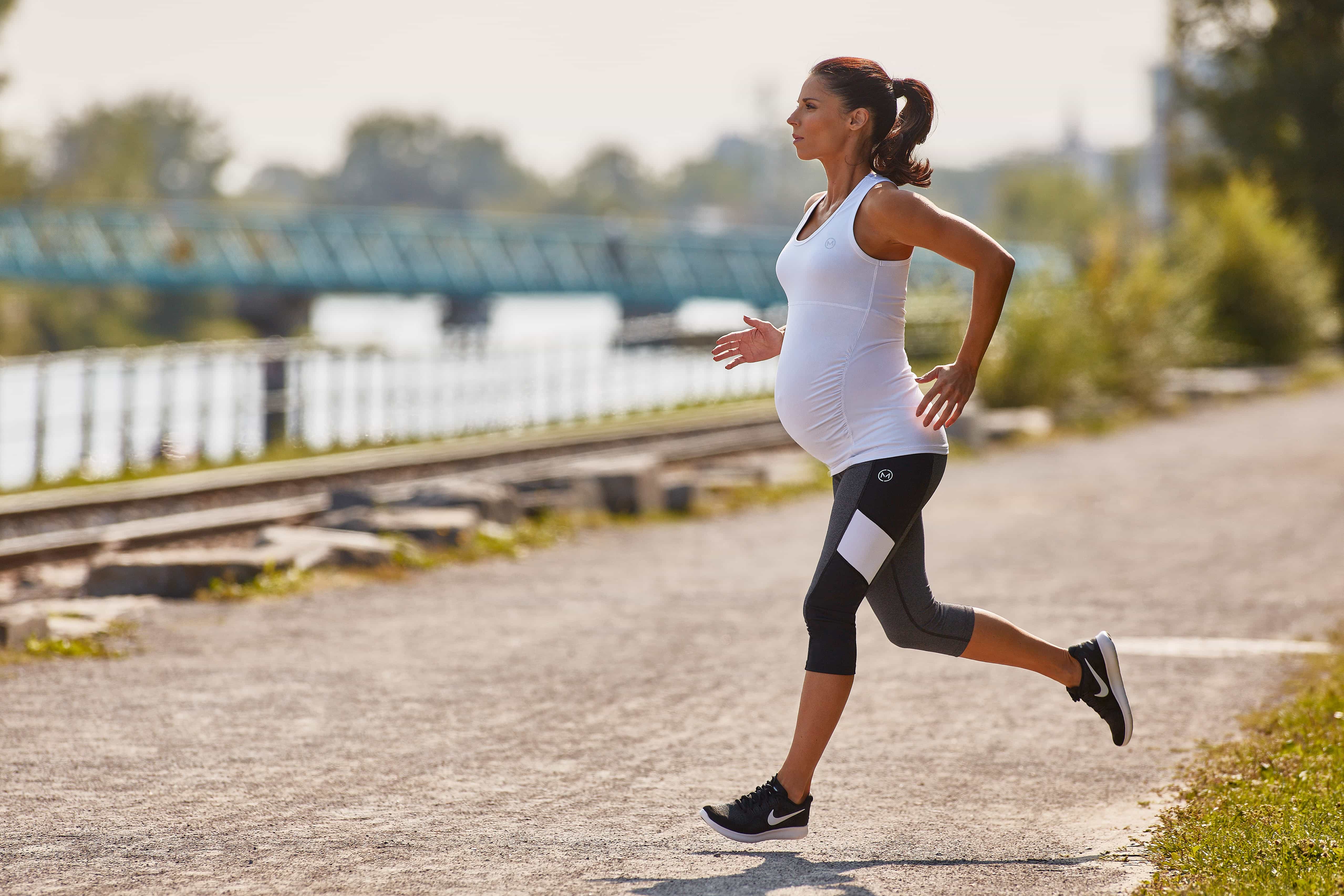 Lounging Around
As I mentioned above, any top that has some ruching is super flattering and comfy around your belly.  I love that we live in a time when pregnancy is something to celebrate and show off rather than hide from.  Women used to wear baggy clothing to hide their bump, and now there are so many cute and cozy things to accentuate it!
When my regular clothes started to feel uncomfortable and look unflattering, I headed to Thyme maternity to check out this world of maternity wear.  I would definitely recommend picking up a few staple items to stay comfy and dress your body in a flattering way.  It will make you enjoy being pregnant that much more if you feel good in the clothes you're wearing.
My staples from thyme are these leggings and tops like this one.  I also invested in one pair of jeans and one pair of shorts that are super comfy.  There are so many different types, so I recommend going and trying a bunch on and see what works for you.  You can buy a pair of jeans there for $60-$80 which is reasonable if you're only going to buy one or two pairs to last throughout your whole pregnancy.
Dressing Up
This is something I do a lot less of these days as the urge to go out decreases due to pregnancy fatigue, but it's still nice to dress up once in a while to go out for a meal or stroll around town.  To be honest, I mostly use the leggings and jeans mentioned above and chose one nice top from Thyme that I can wear out.  I got a few plain tank tops that I can dress up with accessories or sweaters that I already had. Also, if you're pregnant in the summer, you can wear a lot of flowy dresses that you may already have in your closet.
Hand Me Downs
After getting a few staples that you can't live without, it's a good idea to reach out to your family and friends for maternity clothes they may have lying around that they can pass onto you for a fraction of the cost or even for free! And when you're done with them, pay it forward to someone in need! I love donating all my clothes to my local women's shelter.  It feels good to know that I can help a fellow woman in need who may not be able to afford much clothing at all, let alone maternity clothing.
What are your must haves when it comes to maternity clothing?