Cereal.  It's like starting your day with a bowl of dessert.  Literally.  The average sugar content in a bowl of cereal is about 15 grams.. and let's be serious, no one is having the half cup suggested serving.  We are loading those bowls up and then topping it with more sugar (milk)!  Don't forget the hormones and antibiotics in the milk to add to that.  And then let's think about the other ingredients in the cereal like high fructose corn syrup and genetically modified corn and wheat ingredients. Knowing all this I have cut cereal from my daily routine, but I have to admit, I miss the ease and comfort of pouring a bowl of cereal.  Can I get a healthy cereal please?!?!
Take a look at this article for a closer look at cereals and their processing.
Bahhh! You get my point.  Cereal is garbage and a terrible way to start your day or your child's day.  They will be hungry in an hour, start disrupting the class, and then be diagnosed with ADHD! Okay, I'm a tad cynical today.. annnd on any day of the week that ends in Y…
Not to worry!  I'm not just full of complaints.  I have a solution!
Here is my healthy cereal alternative for those days when you just want a bowl of cereal!
Step 1: Blend the powders and almond milk 
unsweetened almond milk
cinnamon (~1tsp) *blood sugar stabilizer
Maca powder (1tsp) *great libido booster 😀
Whole flax seeds (1 tbsp) *essential fatty acids (omega 3) and fibre
1 scoop of protein powder for added protein – the powder in the pic is a meal replacement powder by Garden of Life, so there is tons of good stuff in it including fibre and greens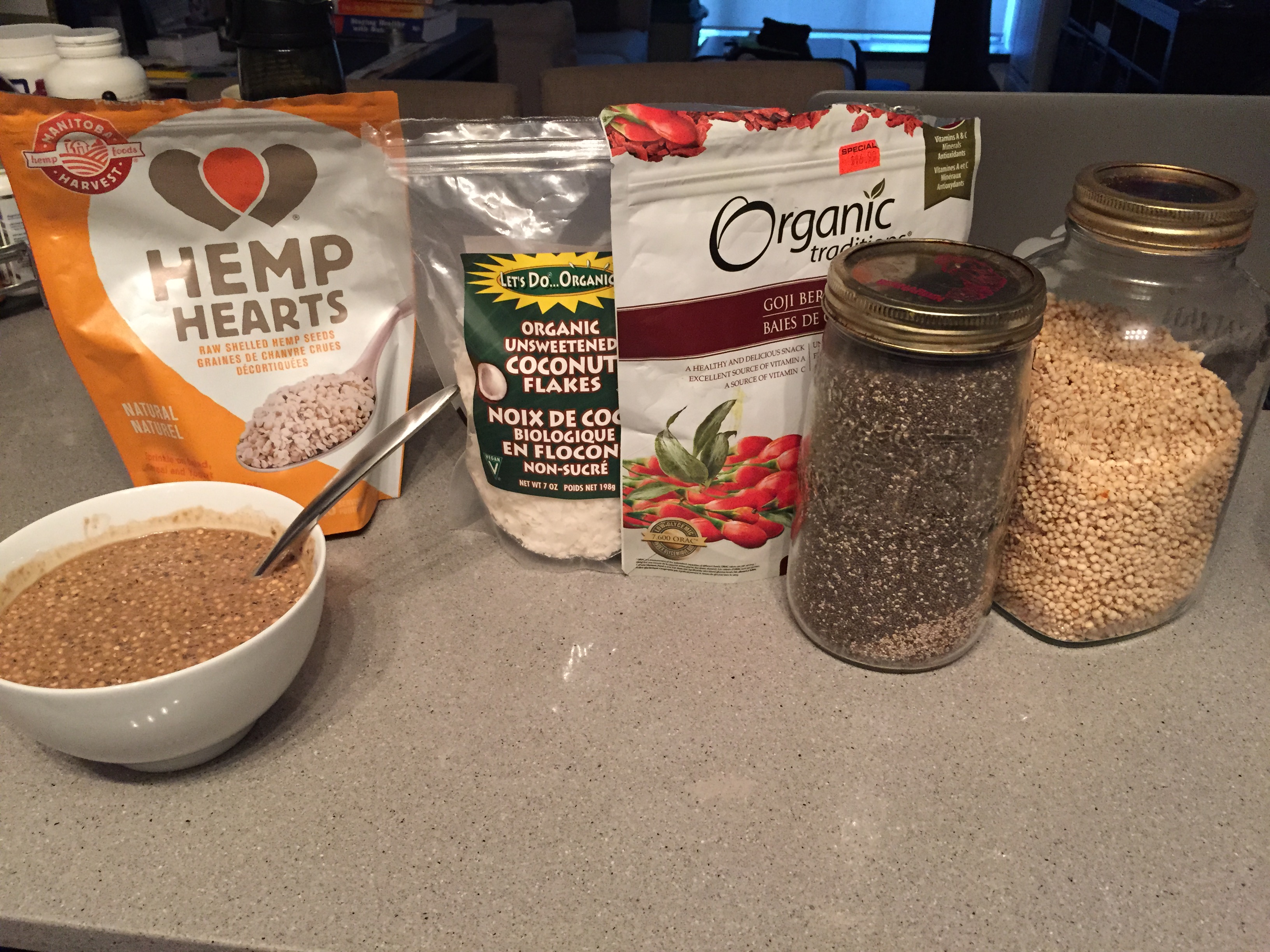 Step 2: Pour blended ingredients into a bowl, add the rest, mix and eat!
Hemp seeds (~1 tbsp) *protein
coconut flakes (handful) *good fats
chia seeds (~1 tbsp) *fibre and calcium
goji berries (handful) *antioxidant
quinoa puffs (1/3 cup) *good source of gluten free whole grains
*put as much or as little as you want of each ingredient to taste
And there you have it!  A mock cereal that has a great mix of protein, carbs, fat and fibre to start your day off right and keep you satiated until lunch!
From one cereal lover to another, you're welcome 🙂