Allow me to reintroduce myself!  My name is Stephanie Sibbio.  I am a fitness and nutrition expert dedicated to helping pregnant and postnatal women thrive in health and fitness.  Here is how it all came to be :).
Cliff Ravenscraft is a superstar in the world of podcasting and entrepreneurship.  Also, on a personal note, he is an inspiration when it comes to health and fitness.  He is a perfect example of determination and perseverance. He has lost 80 pounds by eating clean and working out 6 days a week consistently!  This man is the definition of driven and I was lucky enough to see him speak at a marketing conference in San Diego.  I attended his workshop titled Building a Blueprint for your Future Podcast. The workshop was set up with a series of questions to consider as he continued to speak. One question he asked was simply, what is your niche market?  My answer was: pre/postnatal fitness and nutrition. He said, "perfect!".  I followed up with a question. This is a question I have been struggling with for my whole career.  You see, I have always worked with this niche and over time, have become very knowledgable in the field through experience and research. My question was this: How do I assert myself as an expert if I have not personally experienced pregnancy and motherhood? Most experts take the stance of "I've been there, this is how I did it, let me show you how you can do it too".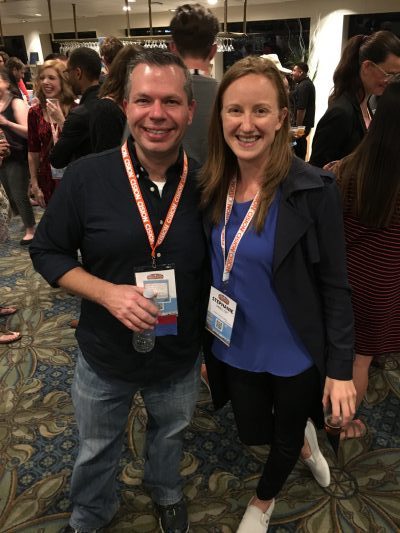 His answer blew me away
for 2 reasons. 1.  It made perfect sense, and 2, it was such a simple answer that I wondered how I ever struggled with this in the first place.
He said:  It is absolutely valuable to be the person who has lived through the experience, but you have something even more valuable. You have been exposed to the experiences of many women. People want the expert's opinion. They want to hear from the person who has seen it all.
The analogy I used to explain it to my partner is:  A doctor who specializes in say, diabetes, is not an expert because he has diabetes. He is an expert because he has studied diabetes and worked with so many diabetics that he knows the condition inside and out.
I have found my calling. I am serving a group of women who I am passionate about working with.  Here is why:
Growing up, I thought that my mom was superwoman. She worked 4 jobs, but always managed to keep us clean, fed and entertained. She made my brother and I feel like there was no one above us and that we were always the main priority, even before herself. She often tells me that she missed me before I even existed. Her life was complete when my brother and I came into her life. It was the best feeling in the world as a child to feel that amount of unconditional love and security.  I know that most mothers can relate, and put their children as such a priority that their own needs tend to take a back seat.  I have so much admiration for this, and have built my career with this woman in mind.
When I was 10 years old one of my  neighbours had a baby boy. I would walk straight to their house from school, knock on the door, and ask if I could see the baby. His mom saw how careful and responsible I was with her child and started to pay me small amounts of money to take care of him while she was upstairs working. For as long as I can remember, I have felt completely comfortable and at ease with a baby in my arms, and from then on, I have always found a way to incorporate working with children into my life.
I went on to pursue a degree in Kinesiology, where I found another passion… Fitness! I graduated and started working as a personal trainer immediately. I loved how rewarding it felt to help people work towards their goals. Working in the fitness industry was fulfilling, however, I knew that I had to figure out a way to work with children again.  I missed being around kids because their genuine and carefree nature was contagious and it was refreshing to be around them.  It was also rewarding to watch their constant growth and development.
It wasn't until I trained my first pregnant client through her pregnancy that I realized my passion! She gave birth around the same time as 5 of her friends. We created a postnatal training group out of her home with all 6 moms and babies.  This felt right. All the pieces to the puzzle came together and I found a way to incorporate my two passions from which I could build a fulfilling career.
The best part of my job is that I have the responsibility of making moms feel like they are a priority, while they maintain focus on their number one priority, their children.
My goal is to send a clear message that it is important to take care of yourself, in order to take care of your family.  Furthermore, I aim to expose children to positive examples of self love and self care through health and fitness practices.
Currently, as a holistic health coach, I combine fitness and nutrition coaching to create a well rounded service.  Nutrition and fitness go hand in hand.  You cannot out-exercise a bad diet, and food can be used to either help you reach your goals, or hinder them.
I look forward to being your go-to health professional!  Leave a comment below and let me know what you would like to see from me.  I will be blogging weekly to provide you with valuable information to help you thrive in health and fitness!
All the best,
Stephanie Sibbio